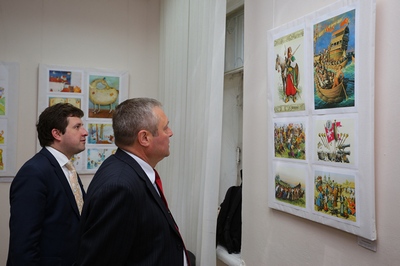 On May 15 at the Exhibition Hall of the Art Museum was opened the exhibition named "Masters of Ukrainian illustration." The opening ceremony was attended by representatives of the Factor Group, Vivat Publishing, Korolenko Kharkiv National State Library, as well as the director of the Art Museum Valentina Myzgina who not only welcomed the opening of the exhibition, but also provided a brief tour.
The exhibition includes the illustrations for children's books by eleven young artists who cooperate with the Kharkiv publishing house "Vivat": Irina Potapenko, Larisa Chaika, Irina Chernyak, Valentina Sandulyaka, Alexander Krutik, Nadezhda Starovoitova, Alexander Bronzel, Alexei Cherepanov, Eugenia Chistotina, Galina Zinko, Marina Puzyrenko.
A separate section of the exhibition is the unique publications, illustrated by artists whose names are inscribed in golden letters in the history of Ukrainian illustration: M. Wrobel, G. Narbut, F. Krichevsky, M. Samokish, V. Casian … Each of them is a whole era of Ukrainian art, and the books, decorated by them, has long been a rarity.
The exhibition is part of the Ukrainian festival Kharkiv BookFest.
The organizers of the festival are Factor Group, Vivat Publishing, City Charitable Fund of Yuri Sapronov and Kharkiv City Council.