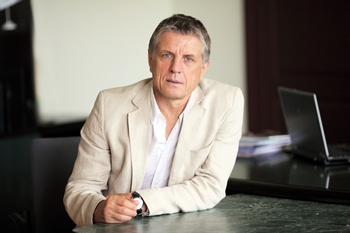 The Group of companies "Factor", the largest publishing and printing company in Ukraine, at the end of last year reduced a gross income by 13.4% to 259 million UAH. The EBITDA in 2014 for the Group of companies decreased by 17% and amounted to 43.6 million UAH.
As the President of the Factor Group Sergei Polituchy noted, 2014 "was the most severe in the history of the Company, which is the same age as the independent Ukraine."
The main decrease in revenue was because of the loss of the markets with high customer density, significant for the Company, as a result of the war. "We have lost as markets the whole Crimea and almost entire Donbas, which are very large markets for us with a population of 4-5 million people and a high buying activity," – he said.
In addition, the decrease was due to the general economic situation in the country, the financial crisis, a significant decline in the solvency of the population.
The main external market is Russia, that has also become a problem because of the war and trade barriers, and therefore in the second half of last year "Factor" announced a systematic reorientation of exports to European markets.
"As you know, the crisis is not only a period of losses, but also the time to look for new opportunities, new products, new markets, new ways of organizing of production", – said S. Polituchy.
In this regard, in 2015, the company identified a number of areas, which account for plans not only to stabilize the situation, but also to develop.
"We strongly focus on global markets, primarily to Europe. And the actions we have taken in the past year, allow us to hope for some success in 2015 ", – said S. Polituchy.
Thus, he reminded that the printing house "Factor-Druk" has already started printing books for Austria and the Czech Republic, and now handles the orders from Germany and some Scandinavian countries. S. Polituchy also noted that this year will continue the improvement of the pointing technical printing capacity.
Similarly, he said, the publishing house "Vivat" began to successfully sell the copyrights to their books in European and Asian countries, and plans to take part this year in the world's largest book fairs in Frankfurt and Bologna.
The publishing house "Factor", which is a leading manufacturer of professional periodicals and literature for accountants and auditors, is actively developing new services, such as online publications, as the portal "Accountant 911", a free online advice for subscribers and a distance education. "The first our accounting online webinars gathered up to 6 thousand participants, that is an unprecedented fact for Ukraine", – said S. Polituchy, adding: "In the past year, we successfully launched a new print product – a paper version of the publication" Accountant 911 " which gathered about 5,000 subscribers in the short term".
All these areas the company will also develop in 2015, as said the President of the "Factor".