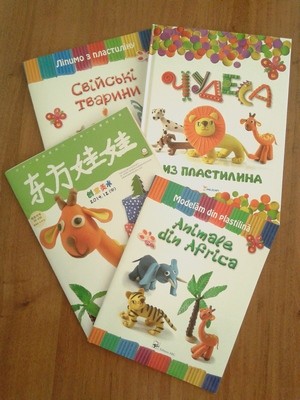 The book of Vivat publishing named "Wonders of Plasticine", authored by Maria Makarenko, becomes a real world hit. Over the past year the rights to its publication has been sold to several countries, and the total print run has exceeded 100,000 copies.
Recently it became known that the book has come to German children: 20,000 copies of "Wonders" have been published in Germany.
Last year "The Wonders of Plasticine" was seen in China with a print run of more than 60,000 copies in a few numbers of the children's magazine. In Ukraine, the "Wonders of Plasticine" were published by the edition of 30,000 copies.
The next editions of the book will be in Slovakia, Romania, Moldova, Russia and Poland, where there are publishers who have already purchased the rights on it.
The book "Wonders of Plasticine" teaches kids to create true masterpieces of plasticine, it contains step by step instructions for modeling and aims to develop the child's fine motor skills, his perseverance and creativity.
According to the CEO of the publishing house "Vivat" Yulia Orlova, such a success of the book is "to some extent a breakthrough for publishers". "Entering the world market with our own intellectual product is one of the main strategic lines of "Vivat", and our experience shows that a high-quality Ukrainian book is competitive in a global world", – she said.
Vivat Publishing is a part of a group of companies "Factor" and was formed in 2013 through the merger of publishing «Pelican» and "Argument Print". Last year, the publishing house "Vivat" has released more than 1.5 million titles and entered the Top-5 list of the largest publishing houses in Ukraine. It has nearly a thousand of trading partners and cooperates with leading publishers from 16 countries.