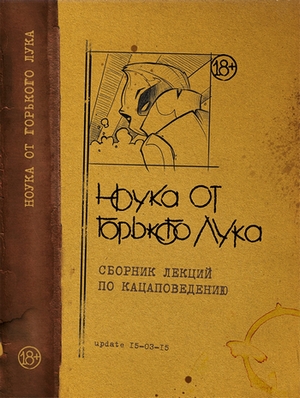 Kharkiv publishing house "Vivat" is preparing to print the book "A Leson from Gorky Luk. The collected lections on kacap science" by signing an exclusive contract with the famous Ukrainian blogger, who is hiding under the name "Gorky Luk".
Just in a few months an on-line project of the infamous blogger entered the tops in blogs and surveys, gathering a record number of views and comments.
Gorky Luk works in the genre of sharp political satire, which is often beyond the limits of decency and does not recognize any political correctness. The author writes in Russian, widely using internet slang, surzhyk and a vocabulary for adults. He is fiercely pro-Ukrainian, and in an ironic tone debunks the myth of the Russian sovereign exceptionalism, ridiculing imperial ambitions of Russia and its claim to the right to determine the future of their neighbors.
In connection with his position the author regularly receives letters and messages in social networks with threats of physical violence.
"In view of all the circumstances, we will not disclose the identity of the author, I can only say that he lives in Kyiv, and is a philologist by the education. I think that the launch of such a book is a bold decision of our publishing house. The author calls things by their right; he is intolerant in his statements regarding the pro-Russian citizens. The style and the original author's edition of the text of the book will be keeped as much as possible", – said the General Director of the publishing house "Vivat" Yulia Orlova.
She noted that the interest in the project is very large. "We approached to the issue of promotion of this book responsibly as always, launched Landing and opened the possibility to pre-order it in our online store: we have already collected more than a thousand applications," – she said.
The book's presentation will be held in September at the Lviv Publishers' Forum.
Vivat Publishing, which is included in the Factor Group of Companies, was created in 2013 through the merger of two major publishing houses in Kharkov – "Argument Print" and «Pelican», and today is among the five largest publishers of Ukraine. It has about 5 thous. titles in its range, annually produces about 500 new books promoting the print products under three brand names: «Pelican» (children's books), "Argument" (Applied Literature), and "Vivat" (Gift Edition). The total sold print run a year is more than 1.5 million copies. It has more than 1000 trading partners in all regions of Ukraine and neighboring countries, is working with leading publishers of Great Britain, France, Hungary, Italy, Spain, Poland, Germany, and the United States.